Images and Videos of Course Questionnaire (OCQ)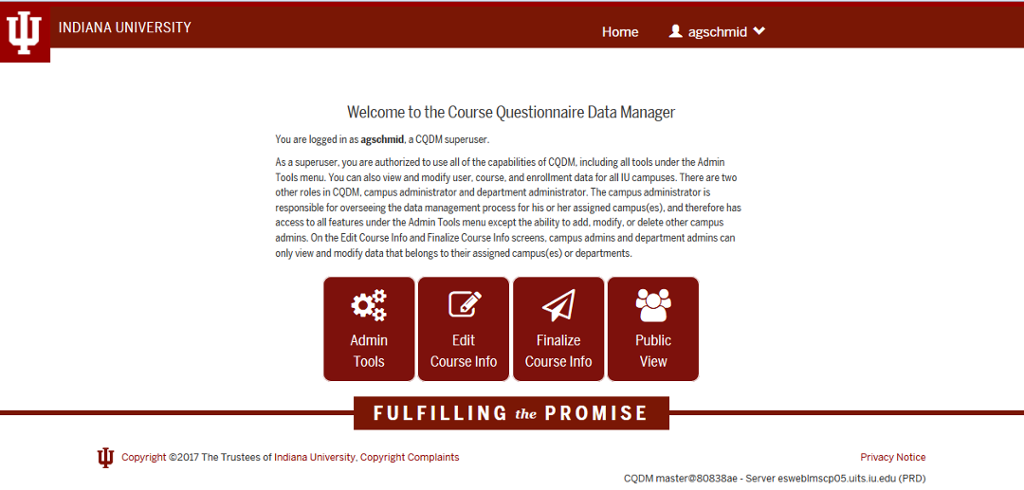 About this Tool
Online Course Questionnaire (OCQ)—sometimes called Course Questionnaire or Online Course Evaluation—is available for online course evaluations at all Indiana University campuses except IU Fort Wayne and the IU School of Medicine. You and your students can access Course Questionnaire within Canvas.
Most of the items in the questionnaire are standardized, but you may add up to three qualitative and three quantitative customized questions. During the evaluation period, you can monitor response rates for your classes. After the term is over, you can view reports summarizing the evaluation results.
Key Features for Teaching and Learning
Receive anonymous feedback. Students are not identified in the report, and you will not receive any data that links student responses by student name.
Customize your evaluations. You may ask additional questions to get the most out of the OCQ.
Monitor response rates. You can view your response rates and promote the evaluations accordingly.
Keywords
Categories
Availability
This tool is available for

Faculty

This tool is not available for

Staff

This tool is available for

Students

This tool is not available for

Guests
IU Bloomington
IUPUI
IU East
IU Kokomo
IU Northwest
IU South Bend
IU Southeast
IUPUC
Cost
Privacy, accessibility, and other information
Integrated into Canvas.

Available in Navigation.